Every town has a story. This is a story of vision, ambition, dedication, and pioneer spirit.
In 1908 R.F. Morrision, Joseph A. Simpson, and J.E. Davis bought 9,500 acres of land on the west side of Utah Lake. They named the town Mosida and began constructing a pump house and irrigation system. Water was soon being pumped from Utah Lake to irrigate the crops of winter wheat, alfalfa, apples, and peaches which were planted on the 10-acre parcels they had sold.
In 1911 a telephone line from Lehi was completed and 20 new homes were built.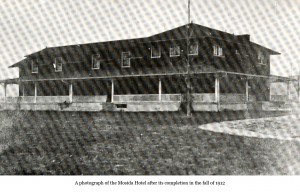 The following year, a 25-room hotel was constructed, as well as a schoolhouse, a post office, and a general store. Mosida boasted a population of almost 600. Mosida was growing, but in 1914 something unexpected happened — the water level in Utah Lake was going down, and by the summer of 1915 the lake had receded a record setting three-eighths of a mile, leaving the pump house useless. The crops soon died. Debts went unpaid and people started leaving.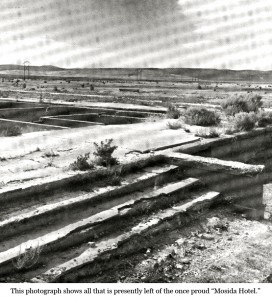 In 1920 only 67 people remained — and by the end of 1925 Mosida was an agricultural ghost town.
Pictures  and content expressly used with permission from R. Clayton Brough from his book "Mosida, Utah Past, Present & Future".   His work to preserve history is invaluable to understanding the the History of Mosida.